Wordia web development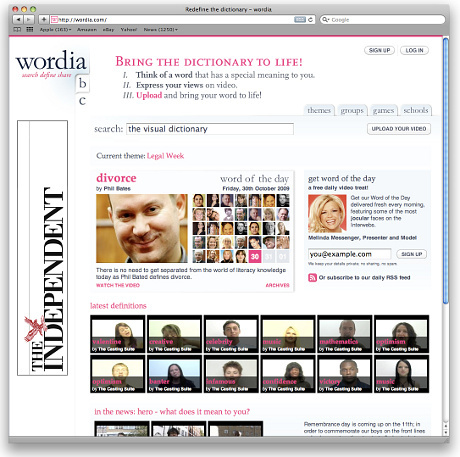 Client:
Wordia, an internet start-up providing a platform for users to upload video footage of their interpretations of the definitions of words.
Brief:
Provide a solid platform for users to upload their definitions that interfaced with YouTube as a back end storage mechanism.
Integrate social media tools to encourage user interaction.
Provide various daily feeds via email,

RSS

etc. to act as campaigns for Word Of The Day.
Outcomes:
Wordia is a custom built CMS utilising Ruby/Rails that allows it's users to upload/playback short videos defining their interpretation of the definition of words. Matt's initial engagement was to implement the back end work queues requirement to cooperate with the YouTube API and facilitate the uploading/retrieval of these videos. He also worked on various user facing sections of the site.
The project gave a good grounding in the incorporation of YouTube within a site whilst working to strict deadlines as part of an agile team on a medium sized project. Various syndication options were offered via RSS to enable users to get feeds of the most popular videos etc.